Tecnifibre TFlash 315 SpeedFlex Tennis Racquet Review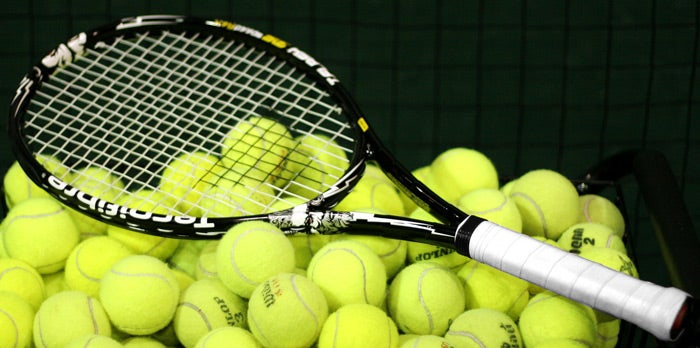 This new version of the TFlash 315 is designed with SpeedFlex technology. Tecnifibre says that SpeedFlex engineers more stiffness into the shaft of the racquet, resulting in improved stability and increased power without sacrificing comfort.
When we tested the TFlash 315 VO2 Max back in 2008, our testers found it to be more of a control-oriented offering. The TFlash 315 sounded like it would offer much more power, with a stiffness rating of 70 RA vs the VO2 Max's 61 RA.
Armed with this SpeedFlex version of the TFlash 315, our testers hit the courts to see if the SpeedFlex version of the TFlash 315 could help them flex their tennis muscles.
Groundstrokes - Score: 78
Our team found power was easy to tap with the TFlash 315 SpeedFlex, but the testers also enjoyed the feel of this racquet. Chris felt this translated into a forgiving racquet. "The power and the forgiving feel really impressed me from the baseline. I was able to hit with solid depth and pace with little effort. The stringbed also felt very forgiving when I was hitting outside of the sweetspot. The response was soft and comfortable, and my shots tended to stay on target even when my timing was slightly off. I enjoyed hitting topspin the most, as my slice shots tended to fly a little."
The racquet's comfort stood out for Danny. "From the baseline, the TFlash 315 Speedflex offers easy access to power and spin. Unlike most stiff racquets, this one doesn't feel harsh on the arm. I would describe this racquet as forgiving, despite its stiffness rating. This is one of those racquets that still feels solid during off-center hits. This stable racquet was a fun test in stock form. If I bought the TFlash 315 Speedflex, I don't think I would make any changes to it.
Spencer had some issues with feel. "The TFlash 315 Speedflex had a very solid feel from the baseline. Access to power and spin was also very apparent from the first few hits. I felt comfortable hitting both forehands and topspin backhands, but I had a little trouble dialing in my slice backhand. There seemed to be a lack of feel when hitting the slice, as I was floating some long while hitting some very short. It took some time to get a feel for consistency. In the hand, this stick didn't feel like it weighed 11.7 ounces. I would have guessed it was closer to 11 ounces because it was so maneuverable."
The racquet provided a forgiving feel for Tiffani. "Having previously tested the Tecnifibre TFlash 315 VO2 Max, I was really surprised by the power level of this SpeedFlex version. This racquet was much more forgiving in every aspect, and I found the power level was there even when hitting outside of the sweetspot. Generating topspin came easily as well, making the TFlash 315 SpeedFlex an enjoyable hit for me."
Fred loved the spin he could impart on the ball. "This racquet gave me great access to spin and a lot of control from the baseline, and it was easy to place the ball deep into the court. I found racquet head speed easy to generate, making this racquet a joy when hitting topspin angles or when taking a rip at short balls."
Volleys - Score: 75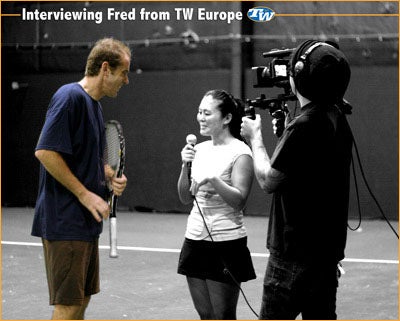 Our testers noted the TFlash 315 SpeedFlex's power level when volleying. For Spencer, putting away the ball was no problem. "The maneuverability and punch were definite assets at net with this racquet. Sitters were put away easily, while the head light balance helped the mobility of this stick. If I had a complaint, it would be a lack of feel for more delicate volleys and touch shots."
That power translated into some difficulties for Tiffani, though. "At net, the racquet's power level helped me put away some volleys with good punch, but at the same time, I was left wanting more control and feel. I felt like the stiffness magnified my not-so-soft hands when trying for touch shots."
Fred noted the excellent feel. "I really appreciated the maneuverability, the comfort and the forgiving feel, and the racquet still offered some added punch and a crisp, yet solid feel on both placement and put away volleys. The generous sweetspot helped keep just-reached volleys deep in the court."
Danny had good success at net as well. "I found good power and feel at the net. My volleys were flatter due to the added stiffness. I was able to place my volleys with good touch and find good depth, but knifing the ball was harder to achieve because of minimal ball pocketing."
The racquet's response impressed Chris. "This was a fun racquet to volley with. I was able to snap volleys away with solid pace, yet I also found plenty of feel on touch shots. The racquet felt very mobile, and I continued to be impressed by the comfortable response."
Serves - Score: 79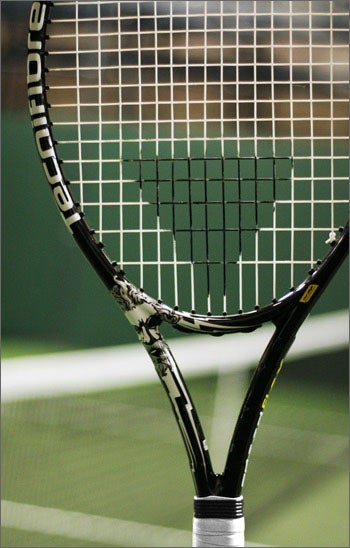 The playtesters were pleased overall, and once again noted the TFlash 315 SpeedFlex's easily tapped power. Tiffani always felt confident stepping up to the line. "I really enjoyed serving with this racquet. It offered some free power, and who am I to pass up a deal like that? I am not a big server by any means, but I felt like my flat serves had some nice zip on them. Spin was also easy to generate, and I had no problems moving the ball around the box."
Fred praised the all-around performance on serve. "I got a lot of power from the racquet and ample access to spin. I found an excellent response from this racquet, both when going for the heater or when hitting a kick serve."
Increased consistency stood out for Danny. "My serve was consistent and solid. I had less spin than I normally have, but the result was still to my liking. My serve up the "T" to the deuce court was better than normal. I think the added stiffness increased my consistency when hitting flat serves."
Chris was finding limitless options on serve."There was a lot of pace and spin to be had on serve with this stick. I felt I could whip the racquet head through the ball and get some good action on my serve. I had a lot of fun serving, both during singles and doubles, because I was finding my targets with good pace."
The racquet was a confidence builder for Spencer. "The combination of solid power and spin was excellent for me. I felt confident when serving, as I could achieve what I would describe as controlled power. The swingweight was quite manageable, helping create a higher swing speed through the contact zone. This, along with the open string pattern, helped produce more action on the ball. My serving was more effective with this racquet than with the Babolat Pure Storm Ltd, which I've been hitting with."
Serve Returns - Score: 76
It was another thumbs up from the team in this category. Danny found the confidence to go for more on his returns. "I was more confident when returning with the TFlash 315 Speedflex than I am with most racquets. The solid stability of this racquet gave me the confidence to take bigger cuts on returns without worrying about making an error."
Chris noted the versatility of the racquet. "This was a good racquet for me on returns, too. I was taking a good cut at any serve that sat up. When given the opportunity, I could take a good rip at the ball without sacrficing consistency. When a tougher serve came in, I was having good success blocking the ball back. I was able to float returns deep during singles, as well as chip them low to the serve and volleyer's feet in doubles."
The mobile feel was key for Fred. "The maneuverability was really noticeable, especially when returning a heavy serve. The racquet feels very fast when mobility is of high importance."
Fighting the temptation to overhit was Spencer. "Though I could wield this racquet more freely, I had to be careful of the temptation to go for too much. As long as I put a reasonable swing on the ball, my returns were good. If I got a little too confident, I could really take a big cut and hit big returns. However, I could also hit some flyers, which, unfortunately, occurred more often than not."
Tiffani praised the racquet as well. "The power level was helpful for me on returns of serve. When I made a solid connection I could easily send the ball deep, with decent accuracy. The forgiving nature of the racquet came in handy as well. I felt like if I were stretched out wide, all I had to do was get the racquet on the ball and it would be in play. The return wouldn't be great, but at least I was in the point."
Overall - Score: 77
The TFlash 315 SpeedFlex delivered when it came to power. The playtest team found easy access to power from all areas of the court. This power, paired with the easily generated spin, resulted in a forgiving stick. The comfortable feel and forgiving nature of the racquet made this a standout racquet in the mid-11 ounce range. This racquet has plenty to offer for a range of skill levels, from intermediate to Open players, and should land on the list of must demos.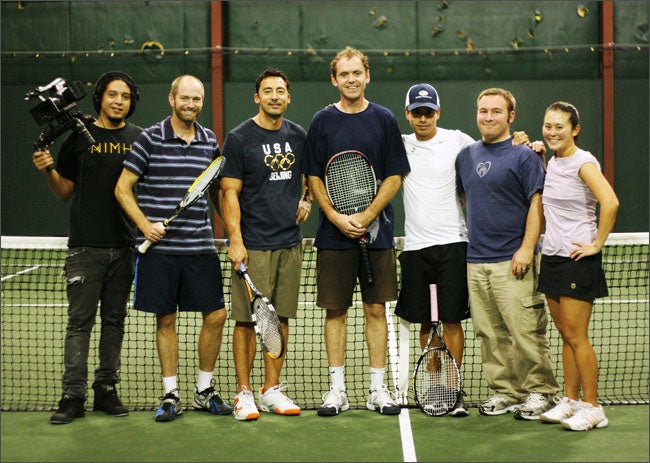 Likes
Chris "I liked the combination of power, comfort and response on topspin shots."
Danny "I liked the overall solid feel. I liked the fact that I could still achieve good power on shots that weren't hit in the sweet spot. It was nice testing a racquet with a 70 stiffness rating that was not harsh on the arm. I found that to be strange, yet interesting."
Spencer "The solid feel, power and spin."
Tiffani "This was forgiving from all areas of the court. It was a solid all-around racquet with ample power."
Fred "I liked the maneuverability, the forgiving feel and the great access to spin, which makes a great overall racquet. Players who hit with aggressive topspin from the baseline will love the playability of this stick."
Dislikes
Chris "Slice shots tended to float a little."
Danny "Nothing."
Spencer "The lack of feel for more delicate shots."
Tiffani "Though the power was helpful to me most times, I wished for a bit more control and touch at the net."
Fred "I didn't really like the length of the handle, which is a little bit too short when you play with a two-handed backhand."
Technical Specifications
Length
27 inches
69 centimeters
Head Size
100 square inches
645 square centimeters
Weight
11.7 ounces
332 grams
Balance Point
12.6 inches
32 centimeters
7.2pts Head Light
Construction
24mm Straight Beam
Composition
Graphite
String Pattern
16 Mains / 19 Crosses

Babolat RDC Ratings
Score
Grade
Flex Rating
70
Range: 0-100
Swing Weight
325
Range: 200-400
Tecnifibre TFlash 315 SpeedFlex Scores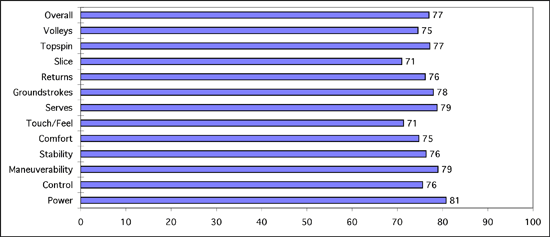 (Scores are determined by averaging individual play test scores)
Chris' Scores
Power
8.1
Serves
8.4
Control
7.7
Groundstrokes
7.8
Maneuverability
8
Returns
8
Stability
7.7
Slice
7.4
Comfort
8
Topspin
8
Touch/Feel
7.8
Volleys
8
Overall
7.9
Danny's Scores
Power
7.9
Serves
7.9
Control
8
Groundstrokes
8
Maneuverability
8.1
Returns
8.2
Stability
8.2
Slice
7.7
Comfort
7.9
Topspin
7.8
Touch/Feel
7.8
Volleys
7.8
Overall
8
Spencer's Scores
Power
8.4
Serves
8.1
Control
6.8
Groundstrokes
7.6
Maneuverability
7.8
Returns
7.3
Stability
7.8
Slice
6.4
Comfort
7.2
Topspin
8
Touch/Feel
6.9
Volleys
7.2
Overall
7.5
Tiffani's Scores
Power
8
Serves
8
Control
7.3
Groundstrokes
7.6
Maneuverability
7.6
Returns
7.6
Stability
7.5
Slice
7
Comfort
7.3
Topspin
7.8
Touch/Feel
7.2
Volleys
7.5
Overall
7.6
Fred's Scores
Power
8
Serves
6
Control
8
Groundstrokes
8
Maneuverability
8
Returns
7
Stability
7
Slice
7
Comfort
7
Topspin
7
Touch/Feel
6.5
Volleys
7
Overall
7.5
Playtester Profiles
Chris: 5.0 all court player currently using the Volkl Power Bridge 10 Mid. Chris uses a full-western forehand grip, has a fast swing style and hits a one-handed backhand.
Danny: Open baseline player currently using a Volkl Power Bridge 10 Mid. Danny uses a semi-western forehand grip, a two-handed backhand and has a long swing style.
Spencer: 4.5 baseline player currently using a Wilson Kobra Tour. Spencer uses a semi-western forehand grip, and hits with a one-handed backhand.
Tiffani: 4.0 level baseliner with a semiwestern grip on the forehand and hits a two-handed backhand. Currently playing with the Yonex RDS 003(08 version).
Fred: From Tennis Warehouse Europe, Fred is a left-handed baseliner. In the US ratings, he would be an Open level player. He uses a two-handed backhand and plays with the Yonex RDS 003.

Review date: November 2009. If you found this review interesting or have further questions or comments please contact us.
All content copyright 2009 Tennis Warehouse.