Tecnifibre TFlash 315 ATP Racquet Review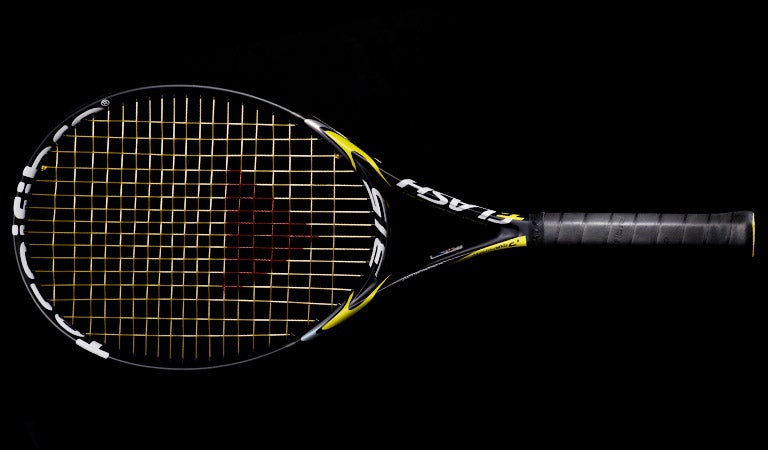 Tecnifibre TFlash 315 ATP Scores
Power
86
Comfort
71
Touch/Feel
69
Serves
81
Groundstrokes
81
Returns
82
Slice
73
Topspin
84
Volleys
79
Overall
78
Upsides
Powerful
Spin friendly
Maneuverable
Downsides
Too firm outside of sweetspot
Summary
What moves like a flash and packs a serious punch? The powerfully quick Tecnifibre TFlash 315 ATP. Featuring an innovative beam design called the Velocity Shaft, this update to the TFlash 315 SpeedFlex moves even faster and has a more explosive feel. Factor in the easy access to spin and the lively response and you have the potential to hit a very heavy ball. This fact helps explain why our playtesters found it so easy to take charge of points and consistently felt like they were on the offensive from every area of the court. Of course, power can be a double edged sword, and some of our playtesters reported a lack of control on a few occasions. Ultimately, the TFlash 315 ATP may not work for the traditionalist in need of a thin beam and ultra-controlled response, but we think it will work quite well for aggressive players looking to turn up the heat.
Groundstrokes - Score: 81
From the start of this playtest, it was apparent to our team that the TFlash 315 ATP packed a powerful punch. Chris noticed a very light, fast and crisp feel from this racquet, and a pleasingly firm stringbed that helped him feel very connected to where his shots were going. He began, "I liked the point and shoot feel of this racquet -- it felt like the ball was getting in and out of the stringbed very fast, and I just got the sense of this being a nice, crisp and lively racquet on every groundstroke. I found it easy to get spin with this racquet as well. I liked how quick it felt coming through my swing, and I found it an easy racquet to accelerate into contact. I really enjoyed laying into my inside out forehand. I found I could swing very aggressively on that shot. I was finding good pace, getting lots of topspin and enjoying the control I was finding. I'd likely add some weight to 10 and 2 in the hoop to improve the stability and stretch the sweetspot up higher in the stringbed. Outside of that, I really enjoyed trading groundstrokes with this racquet."
The TFlash 315 ATP landed right inside Michelle's spec range, and she felt really connected to it. She said, "I really enjoyed hitting this racquet off the ground! I found it to be insanely fast, and I could really whip through the ball to get the power I wanted. I hit well with this racquet every time I used it. It has a good blend of power and speed, and when I wanted it (or needed it), spin was there. It fits into the spec range I enjoy right down to the beam width, stiffness rating, weight and swingweight. I never felt like I was overhitting either, so there was some control for me in there, too. I was consistently hitting deep, and it felt like there was a large sweetspot that I hit practically every time I struck the ball."
It was easy for Andy to generate pace and spin from the baseline with the TFlash 315 ATP. He offered, "It was easy to generate racquet head speed, and if you connect with this thing you can crush the ball. Unfortunately, this didn't lend itself to much control over my shots, and I was forced to go for big targets instead of aiming for the lines. In addition, off-center hits are fairly jarring and uncomfortable."
Like the rest of the team, Troy found a lot of maneuverability and easy power on his groundstrokes. He said, "I was enjoying how well I could hit heavy topspin and get the ball to kick up out of my opponent's strike zone. The downside for me was that I wasn't getting a good feel from this racquet on the backhand slice. The firm feel wasn't necessarily jarring, due to the silicone injected layup, which I felt helped with vibration. This racquet has a thicker beam and higher stiffness rating than I'm typically attracted to, so I didn't feel connected to the ball when placing my shots. Additionally, I found this racquet did not plow through the ball well on my groundstrokes, especially on my backhand slice."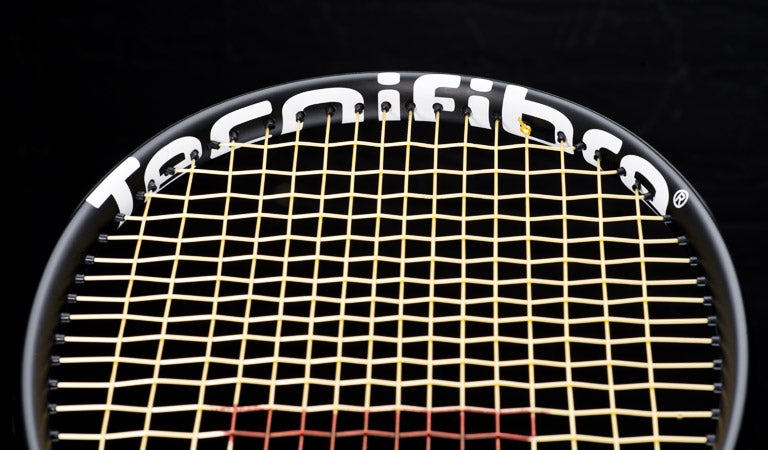 Volleys - Score: 79
The TFlash 315 ATP proved to be easy to use at net due to its maneuverable feel. Andy found that he could use that nice mobility to get the racquet in place, and it was just point and shoot from there. "It took very little to punch a volley back deep into my opponent's court. I also liked how the stiffer feel made the TFlash 315 ATP pretty stable when I was lunging and stretching wide for a volley. However, I didn't feel like I had good feel on my volleys, especially when going for a finesse shot."
Troy also enjoyed some extra pop on his volleys. He felt he could control his volleys and command the ball throughout the court, but as he noted on groundstrokes, he didn't have the response he normally craves from his racquets of choice (Head Microgel Radical and Wilson Six.One 95). He said, "I felt that my volleys had good depth without me having to move the racquet much. The downside for me was that the relatively stiff feel made the racquet a bit jarring when I faced a heavy ball."
Michelle found this to be another easy racquet to volley with, and she enjoyed the solid feel at contact. Being familiar with racquets with similar stiffness ratings (71 RA), she said, "There were no issues with stability or stiffness for me. I could block balls coming at me quickly, and I could also place volleys nice and deep in the court. Touch wasn't horrible either, although I tend to be more aggressive at the net."
The firm and crisp response of this racquet translated into some solid feel and control at net for Chris, who said, "I liked that I could tell immediately how much depth and pace I was getting on the ball. I hit some nice touch volleys with this racquet, yet there was also ample power when I wanted it. I also liked the level of power I was getting on half volleys. I found it easy to control the ball, yet there was enough pop to help me get my shots deep. On the maneuverability front, this racquet was easy to get around, and I was able to react quickly with it during fast exchanges."
Serves - Score: 81
Our big hitting playtesters really took advantage of the maneuverability and power coming from the TFlash 315 ATP on their serves. For the most part, they didn't mind losing some control and precision in exchange for the bombs they could hit. Crafty lefty Troy felt like he was getting some added action on his spin serves. He explained, "My kick serve was helping me open up the court, and a few times I hit an ace out wide, which isn't typical from my kick serve. I was getting some added pop on my first serves down the middle, and I felt this required less effort from my serve mechanics. I didn't quite get the precision I find with more classic style player's frames, but I didn't find this to be a detriment. Overall, I felt this racquet was more user friendly on serve than the traditional player's frames that I tend to gravitate toward."
Once again, this was an easy racquet for Andy to get some head speed and explosive power out of, and it made it easy to generate pace and spin. However, he added, "Once again, control and feel were lacking, and I never felt confident going for the corners of the service box. I found myself going for big serves to big targets."
Chris found some nice pace on his serves with this racquet as well. He said, "It looked like the ball was moving well through the court, and I was getting plenty of short returns to back up my assumptions. I had good directional control on my flatter serves, and adding some spin made my targeting even more predictable. The level of spin was solid -- not as much as my Wilson Six.One 95S -- but up there compared to other non-spin string patterned racquets. The power and spin level reminded me somewhat of a Babolat AeroPro Drive, and the response felt pretty similar too -- firm, crisp and precise."
Michelle found some extra power on her flat first serve. She said, "The quickness of this racquet helped me amp up some powerful first serves and add some serious movement to my second serves. I could get the racquet moving quickly through the air, and there's nothing I would change here!"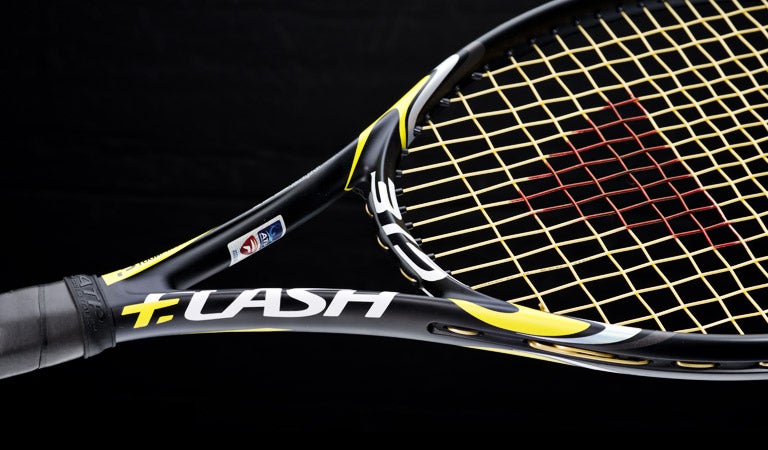 Serve Returns - Score: 82
If you haven't realized it yet, the TFlash 315 ATP played furiously fast throughout the playtest, which helped our playtesters to be ultra aggressive on their returns. Michelle, who is known for her offensive returning style, loved hitting aggressive returns with this racquet. She raved, "Because the 315 ATP was so quick I could get around the ball fast, and I didn't have any issues being late. I could take an offensive swing right off the bat and felt confident attacking balls. My returns were going deep into the court when I played singles, and I had success hitting dipper returns in doubles."
The fast feel of this racquet made it a fun option for Chris on his returns. He explained, "I could step inside the court and whip this racquet through contact with lots of speed. I found some solid power, but nothing I couldn't easily control. Off-center contact felt a tad too firm, but nothing that couldn't be solved by switching to a softer poly based string, or even a hybrid. I continued to find a good level of spin, and I had success hitting angles or rolling the ball deep into the court with some loopy topspin. I was pleased with the pace I found on flatter returns, as well as the depth control I had with this racquet."
"I was returning serves with consistency and finding easy depth," said Troy, "and I was enjoying how maneuverable this racquet felt when facing big servers. When I was stretched out for hard, well-placed serves I could maneuver the racquet and get some decent depth due to the power. Anytime I took a big cut at a return I was rewarded with a deep heavy spin ball, which usually forced a weak reply from my opponent. I wasn't a huge fan of this racquet on the backhand slice return because my return was sitting up for my opponent to hit."
Andy found it hard to not go for broke on a lot of his returns, even though it's not his typical game plan. He said, "The TFlash 315 ATP is light and easy to swing, and the level of power had me trying to find out just how hard I could hit my return of serve. I didn't have enough command to block back returns or take compact swings to redirect the ball to a corner."
Overall - Score: 78
Likes
Chris - "I liked the spin, control, maneuverability and power."
Andy - "I liked the maneuverability and the easy access to power and spin."
Michelle - "The TFlash 315 ATP is so fast and quick that I felt like I could really amp up my pace, and I didn't have issues with big shots hit back at me. I found easy access to depth and spin, and it was so easy to be precise and confident when hitting with this racquet."
Troy - "It's maneuverable and fast. It was easy to hit with power spin."
Dislikes
Chris - "It's a tad too firm outside of the sweetspot. I also found the stability slightly lacking, and I would likely add some weight to the 10 and 2 o'clock positions of the hoop."
Andy - "It didn't have enough control or feel for my liking. I felt disconnected from the ball and unable to control my shots. It was also a bit jarring on off-center hits."
Michelle - "Nothing! I'd feel confident moving this racquet into my top 5."
Troy - "The firm feel of this frame didn't provide the responsiveness that I'm accustomed to. It wasn't a racquet that I liked on my backhand slice."
Comparing it to other racquets they've used, our testers said:
Chris - "Fans of racquets like the Babolat Pure Drive, AeroPro Drive, Wilson Juice and Head Extremes will find a similar maneuverable and spin friendly response here. The feel was somewhere between an AeroPro Drive and the Gamma RZR 100 - firmer than the Babolat but not as firm as the Gamma."
Andy - "The stiff, crisp and modern feel reminded me a lot of the Dunlop F5.0 Tour. Both racquets are very easy to swing and have tons of power and spin, but they were both unforgiving and uncontrollable. The Solinco Protocol 325 was also similar, with the TFlash being a bit lighter."
Michelle - "The TFlash 315 ATP feels similar to the Babolat Pure Drive Roddick, but I think it's even faster, which I really enjoyed! It also had about the same amount of power as the Dunlop F5.0 Tour, but I would give the TFlash the edge in maneuverability."
Troy - "The power and spin levels were similar to the Babolat AeroPro Drive, Dunlop Aerogel 4D 500 Tour and the Volkl Organix 8, although they all have their own unique feel on impact. If I was going to rank thick beam, modern-day player racquets with 100 sq. in. heads, I'd still favor the Head Extreme Pro 2.0, but the TFlash 315 ATP would be a close second."
Technical Specifications

Length
27 inches
69 centimeters
Head Size
100 square inches
645 square centimeters
Weight
11.7 ounces
332 grams
Balance Point
12.75 inches
32 centimeters
6pts Head Light
Construction
24mm / 24.5mm / 23.5mm /
Composition
Graphite
String Pattern
16 Mains / 19 Crosses

Babolat RDC Ratings

Score

Grade

Flex Rating
71
Range: 0-100
Swing Weight
322
Range: 200-400
Scores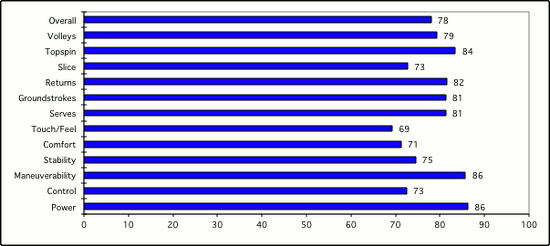 (Scores are determined by averaging individual play test scores)
Chris' Scores
Power
8.3
Serves
8
Control
8.2
Groundstrokes
8
Maneuverability
8.6
Returns
8.1
Stability
7.4
Slice
7.9
Comfort
7
Topspin
8.4
Touch/Feel
7.8
Volleys
7.8
Overall
7.9
Michelle's Scores
Power
8.5
Serves
8.5
Control
8
Groundstrokes
9
Maneuverability
9
Returns
9
Stability
8.5
Slice
7.7
Comfort
8.5
Topspin
8
Touch/Feel
7.5
Volleys
8
Overall
8.8
Andy's Scores
Power
8.5
Serves
7
Control
5
Groundstrokes
7
Maneuverability
8
Returns
7
Stability
6.7
Slice
7.5
Comfort
6
Topspin
8
Touch/Feel
5
Volleys
7.8
Overall
6.5
Troy's Scores
Power
9.2
Serves
9
Control
7.8
Groundstrokes
8.5
Maneuverability
8.7
Returns
8.5
Stability
7.2
Slice
6
Comfort
7
Topspin
9
Touch/Feel
7.4
Volleys
8.1
Overall
8
Playtester Profiles
Chris: 5.0 all-court player currently using the Wilson Six.One 95S. Chris uses a full-western forehand grip, has a fast swing style and hits a one-handed backhand.
Michelle: Open level baseline player with a semi-western forehand and a two handed backhand. She currently plays with the Babolat Pure Drive Roddick.
Andy: Open level all court player with a semi-western forehand grip and a two handed backhand. Andy currently using a Wilson Blade 98 18x20.
Troy: 5.0 lefty all-court player with a full Western Forehand and a two-handed backhand. Troy currently plays with a Wilson BLX Six.One 95.

Review date: April 2014. If you found this review interesting or have further questions or comments please contact us.
All content copyright 2014 Tennis Warehouse.