Tecnifibre TFlash 300 ATP Racquet Review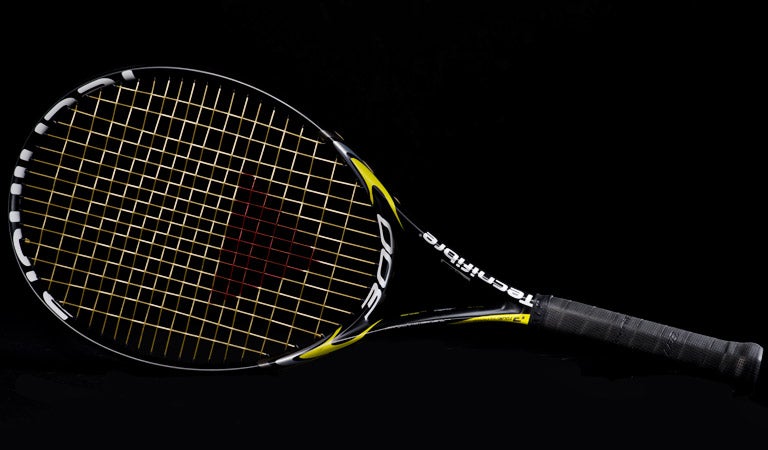 Tecnifibre TFlash 300 ATP Scores
Power
84
Comfort
77
Touch/Feel
79
Serves
80
Groundstrokes
82
Returns
81
Slice
80
Topspin
82
Volleys
80
Overall
81
Upsides
Blend of power and spin
Maneuverable
User friendly
Downsides
Tad unstable out of sweetspot
Summary
Tecnifibre aimed to make the TFlash 300 ATP, the update to the TFlash 300 SpeedFlex, its fastest swinging racquet yet, and with the new Velocity Shaft design, Tecnifibre may have succeeded. The aerodynamic design of the beam cuts through the air like a hot knife through butter, and all of our playtesters noted how easy it was to get this racquet into position at net. The easy swing speed lent itself to easy power and spin from all areas of the court. Hitting offensive shots and putting their opponents on the defensive took very little effort. However, the lack of weight had some of our testers noticing a bit of instability on off-center hits and a lack of control on serve. For the intermediate player looking for a lightweight racquet with a modern feel, the TFlash 300 ATP is certainly an option worth exploring.
Groundstrokes - Score: 82
The most common feedback from our playtesters regarding the TFlash 300 ATP was that it was easy to use from the baseline. Karly could easily back her opponents up with heavy pace and spin. She explained, "If I wanted to out-hit my opponent with power, this was the right racquet for me to have. The TFlash 300 ATP was easy to swing, and it had such a lively, responsive feel that when I made contact the ball popped off the strings with plenty of power. I never had to muscle my shots to generate pace; the racquet did all that for me. At first the power was overwhelming, but after about an hour I adjusted and could control my shots better. I was mostly relying on spin for control, so if I hit a flat shot there was a good chance my shot was going long. Personally, I prefer racquets that offer more control, but for how simple it was to swing and its responsive feel, the TFlash 300 ATP was extremely user friendly. The biggest downside for me was the instability outside the sweetspot. The racquet got less forgiving the closer I hit to the frame, but the sweetspot was fairly big so it wasn't too much of an issue for me."
Jason had a similar opinion. He said, "With such a quick response, I could not only hit sharp-angled shots, but I could hit them with a tremendous amount of spin. I enjoyed the solid feel and noticed good ball pocketing when I was able to hit shots in the sweetspot. However, when I didn't hit the sweetspot the racquet was more torsionally unstable than I would've expected. A bit of tungsten tape at 3 and 9 o'clock should help with that."
Having played with Tecnifibre racquets in the past, Tiffani felt right at home during this playtest. She said, "I felt very comfortable with this racquet in my hands from the very first swing. As a former Tecnifibre Rebound Pro user, the firm feel is quite familiar to me. This frame feels solid and firm, but it's not jarring or uncomfortable in any way, even when strung with a co-poly. I found good power and spin, and neither ever outplayed the other, meaning I found a good balance of the two. My favorite shot to hit was a cross court backhand. I was finding some great angles, and I felt confident going for them because of the accuracy of this racquet."
It was a very familiar spec for Brittany as well, and she felt very confident ripping away from the baseline. She said, "This racquet was very easy for me to use. The specs are very similar to some of my favorite racquets, such as the Babolat Pure Drive and the Yonex VCORE 100 S. I really liked the combination of power and control I received from the baseline, and I felt very comfortable going after the ball. I found plenty of spin, which was perfect for hitting shorter-angled groundstrokes to pull my opponents off the court."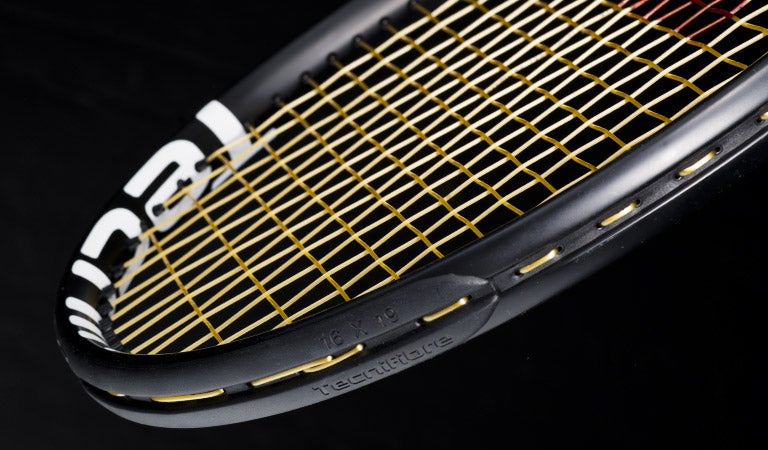 Volleys - Score: 80
The exceptional maneuverability of the TFlash 300 ATP made it really easy to get the racquet into position at net, but all of our testers mentioned the lack of torsional stability on off-center hits. Tiffani enjoyed the crisp, lively feel, but struggled a bit fending off heavy-hit groundstrokes from her opponents. She critiqued, "The TFlash 300 ATP was very quick up at net. I also liked the firm feel when punching away volleys. I could control the direction of my shots well, too, so I could angle off volleys when the opportunity presented itself. As with just about every racquet in this weight range, I noticed some flutter if I missed the sweetspot when playing against bigger hitters."
Brittany echoed Tiffani's sentiments, saying, "This racquet was really easy to maneuver, especially up at net. I was able to get my racquet into position to hit volleys easily. I enjoyed being up at net because I had a variety of shots I could use, whether it was a deeper put-away shot or a softer, shorter volley. At times I noticed some instability, especially when I hit outside the sweetspot. This caused the racquet to twist in my hand and feel a little unforgiving."
Jason appreciated the ease of use but found the same lack of plow through on mis-hits. He said, "Like with my groundstrokes, I found this racquet to be quick and responsive. It was nice on overheads, too. However, since I'm not the world's greatest volleyer I tend to hit more shots off-center up at net, so the torsional instability was a big issue for me."
Karly felt the TFlash 300 ATP helped her volley better than usual. She explained, "Volleys aren't normally my strongest shot, but I had more confidence up at net with this racquet. I loved all the power I could put on my shots, and I didn't have to put much effort into it, either. Then, with its easy maneuverability and generous sweetspot, making good contact was a cinch. I was volleying deep in the court and with a lot of power and pop. The only time I had trouble at net was when I didn't hit the sweetspot. The unforgiving feel and instability intensified when I hit toward the outside of the stringbed."
Serves - Score: 80
Success didn't come quite as easily for our playtesters when serving with the TFlash 300 ATP, as most of them struggled to find enough control to serve consistently. Brittany had to take a little bit off of her typical flat serve in order to improve her first serve percentage. She explained, "I could definitely generate a lot of racquet head speed, and there was definitely a lot of power on my serves. I almost had to dial back on my serves because they were landing past the service line. With a little extra spin I was able to get my ball to drop inside the service box."
Tiffani appreciated the easy power, but easier access to spin would've allowed her to hit her spots better. She offered, "Initially, I had some problems controlling the depth of my serves with the TFlash 300 ATP. I'm not quite sure what it was, but it took me a while to settle in and find my range on serve. I sent quite a few long. I enjoyed the power, but I didn't seem to always be able to control it with enough spin. I got more consistent as the playtest wore on, but I was never quite as consistent as I would have liked."
On the other hand, Karly thought there was plenty of spin potential, but, like Tiffani, she had trouble with control. She said, "Serving was the area I needed the most time to adjust to this racquet. The power was really overwhelming for me in the beginning of the playtest. I had a tough time controlling my serves, and a majority of my misses were sailing long. Once I got used to all the power this racquet was very easy to use. The maneuverability was great, so I could hit hard, fast serves without tiring out my arm. My favorite shot to hit with this racquet was a kick serve, because of its excellent spin potential and easy power. I used the spin to keep the ball in and the power to generate pace. It made hitting second serves a breeze."
Jason had a little different experience. He thought the control was good, but the pace just wasn't there on his serves. He said, "Even though I could generate plenty of racquet head speed, I wasn't necessarily getting the pace I wanted. There wasn't enough mass in the hoop to get the MPHs I wanted, but it was a nice racquet for hitting slice serves. I found the control to be above par as well."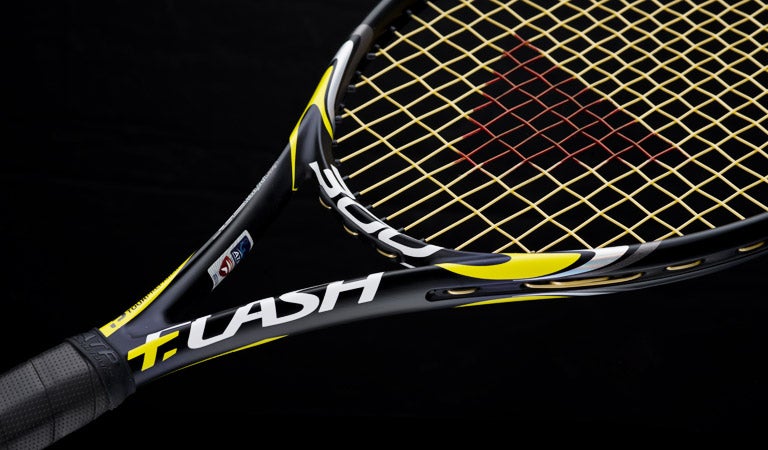 Serve Returns - Score: 81
The lightweight feel and easy maneuverability allowed our playtest team to return aggressively with the TFlash 300 ATP. However, instability on off-center hits was again an issue. Jason liked the results when he could take a good rip at the ball, but unfortunately, that wasn't always the case. He explained, "The instability was a bit more magnified here. When I didn't hit a clean return the shot not only landed short, but the racquet would also twist in my hand. When I had a good look at a serve, I felt like I could aim at any part of the court and use the spin to get the shot in."
Karly was all guns blazing on her returns, but like Jason, she noticed the racquet twisting on balls hit off-center. She said, "The TFlash 300 ATP swung so fast it hardly took any effort to generate power, so returning aggressively was extremely easy. As long as I made good contact I was immediately on the offensive. With its lightweight feel I could go for sharp angles with a lot of power behind the ball. I only had issues on returns if I went for too much power or if I didn't hit the sweetspot. I had to be careful controlling my shots because it was easy to send the ball long, and the racquet was very unstable if I didn't make contact in the center of the stringbed."
Brittany's aggressive return style paired wonderfully with this racquet, but she also found it unforgiving outside of the sweetspot. She said, "I loved stepping into the court and starting the point on the offensive with this racquet. This racquet was quick through the air, and I was able to set up and quickly cut off any balls that were angled up or away from me (even those from Troy's lefty serve). Like on my volleys, though, I felt some instability when returning bigger serves that caused the racquet to flutter in my hand."
"Much like my groundstrokes, I was comfortable and confident with this racquet in my hands on the return," said Tiffani. "When I'm not comfortable with a racquet I tend to hit my returns back at the server to give myself the biggest margin for error. With the TFlash 300 ATP I liked taking some risks, and I tried to be more of a shotmaker."
Overall - Score: 81
Likes
Tiffani - "I liked the firm yet comfortable feel as well as the balance of power and spin."
Jason - "Maneuverability, access to spin and nice ball pocketing in the sweetspot."
Brittany - "I really liked this racquet for the power/control combination, the spin potential and the maneuverability."
Karly - "Power came so naturally. I didn't have to try hard at all to hit an aggressive shot."
Dislikes
Tiffani - "I struggled a little on serves, but I have no real complaints."
Jason - "Slightly unstable with off-center shots."
Brittany - "I found just a touch on instability up at net and when returning serves."
Karly - "Though I liked how easy it was to hit a powerful shot, I prefer racquets that offer more control. I really had to work to keep my shots from flying long."
Comparing it to other racquets they've used, our testers said:
Tiffani - "The TFlash 300 ATP is like the previous TFlash SpeedFlex racquets. There's good power, spin and maneuverability, with a firm feel. In that regard, other similar racquets that come to mind are the Donnay Formula 100, the old Dunlop 500 series and the Head IG Extreme Midplus 2.0."
Jason - "The playability lands somewhere between a Babolat Pure Drive and a Pure Drive Lite. Not as powerful as a Pure Drive but more stable than a Pure Drive Lite."
Brittany - "This played very similarly to a Babolat Pure Drive. There was the same amount of power, control and spin potential. The only difference for me would be that the feel was slightly different, and I thought the TFlash 300 ATP was a tad unstable."
Karly - "The TFlash 300 ATP played a lot like the Babolat Pure Drive, with the biggest difference being the maneuverability. I thought the TFlash 300 ATP swung faster and felt lighter than the Pure Drive."
Technical Specifications

Length
27 inches
69 centimeters
Head Size
100 square inches
645 square centimeters
Weight
11.2 ounces
318 grams
Balance Point
13 inches
33 centimeters
4pts Head Light
Construction
24mm / 24.5mm / 23.5mm /
Composition
Graphite
String Pattern
16 mains / 19 crosses

Babolat RDC Ratings

Score

Grade

Flex Rating
72
Range: 0-100
Swing Weight
314
Range: 200-400
Scores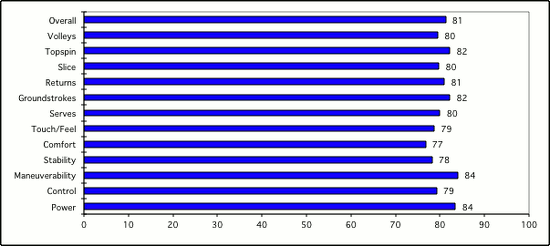 (Scores are determined by averaging individual play test scores)
Tiffani's Scores
Power
8.1
Serves
7.7
Control
8
Groundstrokes
8.3
Maneuverability
8.4
Returns
8.2
Stability
7.9
Slice
7.9
Comfort
7.8
Topspin
8
Touch/Feel
8
Volleys
7.8
Overall
8.1
Jason's Scores
Power
8
Serves
7.9
Control
8
Groundstrokes
8.1
Maneuverability
8.3
Returns
7.7
Stability
7.8
Slice
8.2
Comfort
7.8
Topspin
8.4
Touch/Feel
8
Volleys
7.8
Overall
8
Brittany's Scores
Power
8.6
Serves
8.5
Control
8
Groundstrokes
8.3
Maneuverability
8.5
Returns
8.1
Stability
7.8
Slice
7.9
Comfort
7.5
Topspin
8.4
Touch/Feel
7.8
Volleys
8.2
Overall
8.3
Karly's Scores
Power
8.7
Serves
7.9
Control
7.7
Groundstrokes
8.2
Maneuverability
8.4
Returns
8.4
Stability
7.8
Slice
7.9
Comfort
7.6
Topspin
8.1
Touch/Feel
7.7
Volleys
8
Overall
8.1
Playtester Profiles
Tiffani: 4.0 level baseliner with a semiwestern grip on the forehand and hits a two-handed backhand. Currently playing with the Donnay Formula 100.
Jason: 4.0 baseliner with a semi-western forehand and two handed backhand. Currently using a Wilson Steam 99 S.
Brittany: Open level player with a semi-western forehand and a two-handed backhand. She currently plays with the Yonex V-Core 100S.
Karly: 4.0 baseline player currently playing with the Volkl Organix 10 Mid. She hits with a semi-western forehand grip and uses a two handed backhand.

Review date: April 2014. If you found this review interesting or have further questions or comments please contact us.
All content copyright 2014 Tennis Warehouse.