Wilson BLX Pro Staff Six.One 90 Racquet Review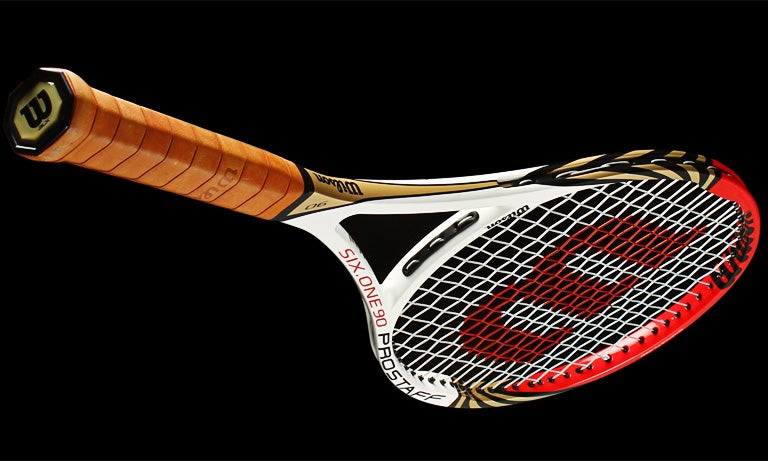 Wilson BLX Pro Staff Six.One 90 Scores
Comfort
88
Touch/Feel
85
Serves
87
Groundstrokes
85
Returns
80
Slice
88
Topspin
84
Volleys
86
Overall
86
Upsides
Upsides
Stability
Spin
Feel
Summary
This is perhaps the most impressive 90 yet, and we've reviewed them all the way back to the Pro Staff Tour 90. With the new BLX Pro Staff Six.One 90 our testers found a more maneuverable feel, even though the strung weight is still in the 12.6-ounce range. With a slightly lower swingweight, this racquet came through the contact zone with some added zip. Our testers found excellent access to both topspin and slice, thanks to increased tip speed, with no sacrifice in stability. At net, this racquet received the highest praise from every tester. They all noted the excellent feel, and they felt the blend of maneuverability and stability was put to good use in both offensive and defensive situations. Our testers served with great consistency, speed and spin. The BLX Pro Staff Six.One 90 offered such an impressive response, on seemingly every stroke, that it was no surprise that two of our testers considered making the switch. Advanced players should definitely take this one for a demo. The BLX Pro Staff Six.One 90 might just be your next racquet switch, too.
Groundstrokes - Score: 85
Though there was essentially no change in the static weight of this latest version of the Six.One 90, a faster feel made this edition easier to use. Chris enjoyed the improved maneuverability. He said, "I found this racquet to be a more user-friendly version of the Six.One 90. I found I could get it around quicker, and I was able to generate more tip speed. My faster swing provided me with more pace and spin, and that enabled me to be much more creative and aggressive with my shot making. While the Pro Staff 6.0 85 is still surprisingly quick for its weight and has always felt faster than the 90s, this one has closed the gap slightly. Comparing all of the 90s, I still really like the feel of the K Factor version, but this one felt better than the BLX racquet it replaces. The feel was less muted, and I felt more in touch with the ball at contact. One thing I've always loved about this racquet is the plow through. I hit some very clean and powerful down-the-line winners thanks to the weight of the racquet. It also felt rock solid on my backhand slice, which I loved hitting with this racquet."
Granville agreed with Chris. He added, "It only took a few groundstrokes to recognize my old friend in a new suit (white tuxedo, no less!). It has the same great feel at impact, soft flex (65 RA) with that 'launch' readiness if and when needed. When it's time to pound the ball down the line it feels like a good drive on the golf course -- you can feel the graphite shaft and composition working for you. It's one of the most head light and maneuverable racquets I've played with in a long time, and perhaps the best part, there was a noticeably more open sweet spot. Another benefit was that I was getting good depth with my regular stroke and did not have to make any adjustments due to its flex. This is the friendliest version of the Six.One to date, allowing for a wider audience. This is definitely a winner for those players capable of handling such a weapon."
Troy said, "To be effective with this racquet I felt like I had to constantly be on the gas. I was having to work a little more than I would have liked to keep my shots landing deep in the court, especially on the two-handed backhand. With a lower swingweight compared to the BLX and K Factor versions, I noticed that there was a slight drop-off in power. I was placing my forehand with a lot of precision, allowing me to pick my spots. I really enjoyed hitting the backhand slice, finding it to be a really penetrating shot that stayed low off the bounce. This stick provided a lot of feel on slice and drop shots, but I felt it was definitely underpowered on my topspin shots. I never felt comfortable rallying with my two-handed backhand with this racquet."
Mark found the heft helped his groundstrokes. He said, "Ordinarily, a racquet with a static weight of 12.6 ounces is just out of my range to use effectively. However, I found the weight and balance of this new offering from Wilson to benefit my groundstrokes. The new Pro Staff Six.One 90 felt very neutral off both wings. It did not add anything to my own power level, but it did provide a very predictable response off the stringbed. After a short adjustment period I loved it from the ground so much that it has become a racquet that I would seriously consider switching to. It took a fair amount of swing speed to get the ball deep with pace and spin, but this was very comfortable. A hybrid of a low tensioned poly (main) and softer cross string provided great ball pocketing. It also seems like this racquet is made for the deft drop shot or slice backhands that stay low."
Volleys - Score: 86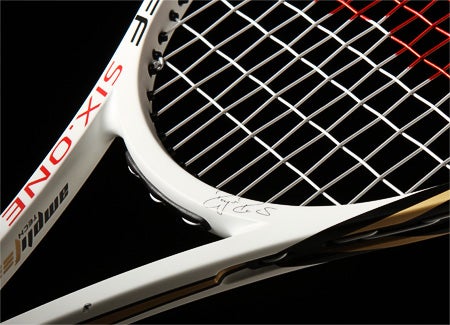 A combination of mass and maneuverability made this racquet deadly at net. A well established player at net, Granville commented, "Scalpel alert! At 8 points head light, this racquet seems to anticipate the ball. I was waiting for the ball to arrive at my racquet! It's crisp and decisive with touch and power. There is nothing this racquet cannot do at the net (or anywhere else.) This is a serve and volley racquet. Pete, this has your name all over it!"
Chris was fond of the feel. He said, "This racquet was very solid and precise at net. I was amazing myself with the accuracy and consistency of my touch volleys. When punching the ball deep, the racquet offered a clean feel. I was able to be aggressive without having to force my shots. All I had to do was catch the ball out in front and use the weight of the racquet to punch the ball away. I also enjoyed the mass when picking up a tough low volley or when I was stretched wide, as it helped me keep my volleys deep and offensive."
Troy enjoyed the increased mobility. He said, "The increased maneuverability really shined at net. When a racquet's swingweight decreases I typically notice less stability in the head of the racquet. In this case stability wasn't sacrificed. I found that I could get good depth on my volleys, unlike my groundies, and I could also carve some sharp angles when needed. As Granville commented, this racquet has a scalpel-like feel. The increased maneuverability was helpful in doubles when I needed to hit a reaction volley or in quick exchanges against the other net players."
Mark was wowed by the stability, saying, "Other than not being able to move it fast enough to reach every passing shot, I felt pretty comfortable at net. As long as I got all of that mass in place, the stability it provided was second to none."
Serves - Score: 87
This racquet offered excellent control, while players could use its heft to generate power. Troy was able to hit a variety of serves. He said, "I was able to generate a lot of spin and kick on my serves. I felt like I could get a lot of racquet head speed, and the amount of control really allowed me to be aggressive on serve. I was mixing up serves comfortably, and I enjoyed hitting my kick serve the most. I usually don't hit a flat serve, but with this racquet I felt like I could go for it on the first serve with success. There's not a whole lot of power being supplied from the racquet, but if you like to crank it up on serve this stick gives you all the control you can ask for."
Enjoying the mass when serving was Chris. He said, "I often serve bigger with a heavier racquet, and that was the case here. My serves had some extra zip and penetration with this racquet. I used Luxilon ALU Power at 2 lbs under mid tension for the majority of the test. That set-up provided an excellent combination of spin and control on serve. With power coming from the weight of the racquet and control and spin from the stringbed, I was serving as well as possible."
Granville experienced excellent precision. He said, "There is no getting around the fact that this racquet is 12.6 ounces. It does feel heavy, especially if you are not familiar with the heritage. Once this racquet got moving, though, it did a lot of the work for me. The mass forced the ball to 'pancake' a bit (not like the 85, though), which in my mind tells me accuracy is going to improve. I was hitting both corners with confidence. While I didn't get any extra power on the serve, with the proper set-up (string type, and lower tension) I would not discount the possibility for bigger hitters."
Feeling at home on serve with this racquet was Mark. He said, "Same thing here as on my groundstrokes. Without much of a transition, I was able to serve well enough that I would already play tournaments with this racquet. It didn't help my second serve any, but that's not a racquet issue."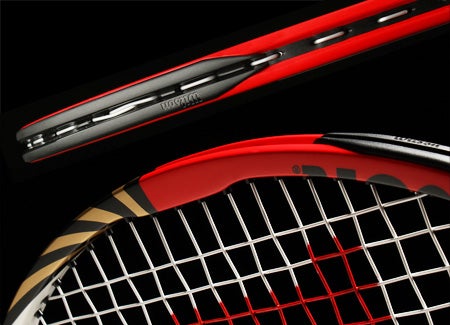 Serve Returns - Score: 80
Though the maneuverability was challenging for some, others relished the solid feel when returning. Granville took advantage of the mass when returning. He said, "I always enjoy good mass when returning serve, and this Six.One 90 delivers that. When I was out in front of the ball I could drive it (tee-off) deep to either side."
Enjoying the solid response was Chris. He said, "I was licking my lips at anything hit out to my wings when returning with this racquet. The solid response had me confidently taking a cut at anything I could. Serves to my body gave me more trouble. The weight of the racquet helped me push the ball deep, and if I was unable to add spin when fending off a body serve I was missing long. I got better at blocking the ball back and recognizing how much depth the weight of this racquet would give me, but in tight situations I still had a tendency to push the ball deep. However, anything I could swing at was just absolute joy, and this made it a great racquet to steal the offensive in both singles and doubles."
Troy wasn't finding the depth he had hoped for. He said, "The lack of depth that I was experiencing on my groundstrokes was evident on my returns as well. More often than I would have liked, my returns were landing near the service line and setting up my opponents with an easy forehand approach. I found some success with hitting the backhand slice return, which allowed me to establish the point instead of being on defense right away. I had the ability to place the ball effectively in doubles, and the lack of depth wasn't as much of a detriment as it was in singles."
Seeking better maneuverability was Mark. He said, "I was most challenged from this position in the court, and I would guess it has something to do with the heavy static weight and me not being able to maneuver it quickly. The Six.One Pro Staff 90 was stable for sure, I just need to do some more bar-dips and pull-ups to swing it effectively."
Overall - Score: 86
Likes
Chris - "I loved the power, stability, spin, control, feel and maneuverability (which all felt improved for me). Thankfully, I also think the cosmetic has improved, as I was not a fan of the previous one."
Troy - "A ton of control. It really allows aggressiveness on the forehand and serves (Federer's two best shots!)."
Granville - "It comes with a leather grip (no brainer) and has the same great feel of previous Six.Ones. It also offers good depth on groundstrokes. A solid performance stick."
Mark - "I must admit that I do like the flat white color that dominates the paint scheme of the frame. Stable, predictable, and very control oriented; it is one of my favorites out of all the racquets arriving new for 2012, so far."
Dislikes
Chris - "None. I've never considered switching to the Six.One 90 before, but this one definitely got me thinking about it. I thought it was a really nice playing racquet, and I thoroughly enjoyed this playtest."
Troy - "The power was lacking on my groundstrokes. I preferred the higher swingweight on the two previous models of this racquet."
Granville - "There's really nothing to complain about. It's good looking, but the white color takes some getting used to. I did not like the hybrid set-up in one of the demos. It seems to be sensitive to string type and tension."
Mark - "It is just a little heavy for me, and I would probably swap out the leather grip for a synthetic one."
Technical Specifications

Length
27 inches
69 centimeters
Head Size
90 square inches
581 square centimeters
Weight
12.6 ounces
357 grams
Balance Point
12.5 inches
32 centimeters
8pts Head Light
Construction
17.5mm Straight Beam
Composition
Karophite Black / Basalt
String Pattern
16 Mains / 19 Crosses

Babolat RDC Ratings

Score

Grade

Flex Rating
65
Range: 0-100
Swing Weight
327
Range: 200-400
Scores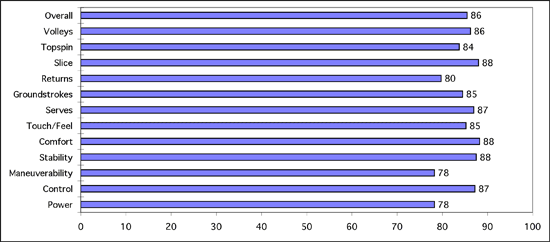 (Scores are determined by averaging individual play test scores)
Chris's Scores
Power
8.3
Serves
8.6
Control
8.4
Groundstrokes
8.3
Maneuverability
7.8
Returns
7.9
Stability
8.5
Slice
8.6
Comfort
8.3
Topspin
8
Touch/Feel
8.4
Volleys
8.6
Overall
8.3
Troy's Scores
Power
7
Serves
8.5
Control
8.7
Groundstrokes
7.8
Maneuverability
7.9
Returns
7.5
Stability
8.5
Slice
8.8
Comfort
8.8
Topspin
7.5
Touch/Feel
8.3
Volleys
8.4
Overall
8.3
Mark's Scores
Power
8
Serves
9
Control
8.8
Groundstrokes
9
Maneuverability
7.5
Returns
7.8
Stability
9
Slice
8.8
Comfort
9
Topspin
9
Touch/Feel
8.6
Volleys
8.6
Overall
8.6
Granville's Scores
Power
8
Serves
8.7
Control
9
Groundstrokes
8.7
Maneuverability
8.1
Returns
8.7
Stability
9
Slice
9
Comfort
9.2
Topspin
9
Touch/Feel
8.8
Volleys
8.9
Overall
9
Playtester Profiles
Chris: 5.0 all court player currently using the HEAD Youtek IG Prestige Midplus. Chris uses a full-western forehand grip, has a fast swing style and hits a one-handed backhand.
Troy: 5.0 lefty all-court player with a full Western Forehand and a two handed backhand. Troy currently plays with a customized Wilson KBlade 98.
Mark: 5.0 lefty all-court player with a one-handed backhand. He currently plays with the Dunlop Aerogel 4D 200.
Granville: 5.5 all-court player currently using a Wilson K Factor Six-One Tour 95. Granville is an aggressive player who uses an eastern forehand grip and goes continental on everything else, hits with a flat swing and a one-handed backhand.

Review date: December 2011. If you found this review interesting or have further questions or comments please contact us.
All content copyright 2011 Tennis Warehouse.