Wilson Steam 99 S 2013 Racquet Review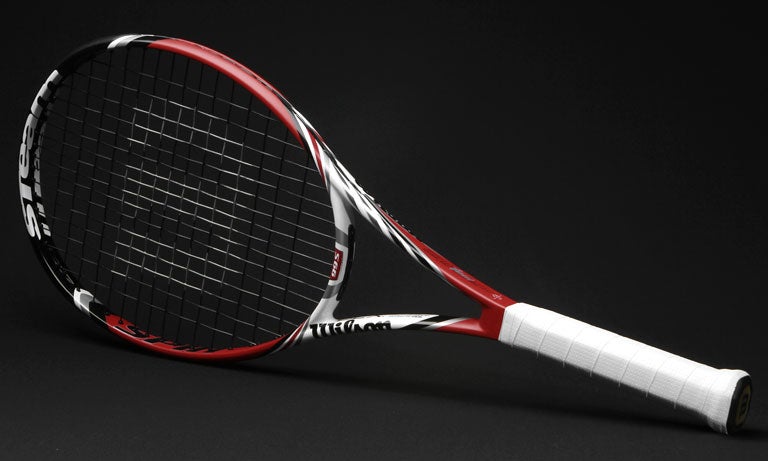 Wilson Steam 99 S 2013 Scores
Comfort
78
Touch/Feel
74
Serves
80
Groundstrokes
90
Returns
83
Slice
80
Topspin
98
Volleys
77
Overall
82
Upsides
Spin
More spin
Still more spin
Power
Downsides
Not super maneuverable
Loss of control on flat shots and volleys
Summary
We were all very excited to hit this revolutionary offering from Wilson. The new Steam 99S was consistently described as "crazy," "a game changer" and "unlike anything I've ever hit before." The super open Spin Effect 16x15 string pattern allows you to unleash a whole new level of spin. On topspin groundstrokes the ball leaves the stringbed at a slightly higher trajectory than normal, but it dives down at the court with tons of action and backs your opponent off the baseline. We also found the racquet to perform well in other aspects. Power was there when needed, and there was more control than we expected. The crazy spin and easy pace means going from all out defense to full on offense is often just one swing away with the Steam 99S. This racquet has become a craze among the playtest team here at TW, and we highly recommend giving this spin monster a try.
Groundstrokes - Score: 90
Hitting with the Steam 99S from the baseline is truly a unique experience, and all of our playtesters agreed that they could generate more spin with this racquet than with any other racquet we've tried. "Crazy, crazy, CRAZY (did I mention crazy?) spin potential!" said Andy. "This is unlike any racquet I've ever hit from the baseline because the spin potential is off the charts! When I take a big cut at my groundstrokes the ball explodes off the stringbed like Gangnam Style when it hit YouTube. The ball actually comes off at a higher trajectory than I'm used to, but the extra topspin that the 16x15 string pattern produces gets the ball diving down into the court. The crazy thing is, I could keep swinging harder and harder and it just created more and more spin. I was also worried that I would lose control with the Spin Effect string pattern, but I was surprised that I still had great command over all my shots. This racquet was extremely impressive from the baseline."
Chris actually felt this racquet allowed him to do things with the ball that he can't do with other racquets. He said, "This racquet helped me create absolutely insane spin on my groundstrokes. The amount of spin was just crazy, and I'm amazed that a racquet like this can be legal. I was able to bend down-the-line passing shots from near the doubles sideline and watch them swing inside the back corner of the court just inside the singles line. Incredible. I was hitting sharper angles than usual and hitting them with a lot of pace. The spin would just help the ball curve, hook and stay in. My slice floated for the first few shots, but I quickly dialed it in and was able to place it well with good pace. I loved the lively response on flatter shots as it helped get the ball back deep and aggressively even when I was on the run and at full stretch. Rarely does a racquet come along that changes what I can do with the ball to this extent, but this one is a game changer. I'm not a huge fan of the weight and balance of this racquet, however, the stringbed dominated the hitting experience to the extent that it pretty much made the frame insignificant."
Also amazed by the amount of spin he could generate was Jason, who said, "This racquet definitely took some getting used to because the launch angle is different than most racquets. It seemed like my shots were leaving at a higher angle than I'm used to, but once I got that dialed down it was amazing! I couldn't believe the amount of spin I was getting, especially on my forehand. My shots that would typically go out were dipping in at the baseline. The crazy spin wasn't limited to topspin, I felt like my slice shots had added bite to them as well. The swingweight is higher than I'm comfortable with, but I was OK with it for the most part and felt like I could even produce some sharp angles. At the end of my hits was when I could feel the swingweight, and I was swinging late on more shots. This racquet tended to launch shots if I didn't put spin on them, which is rare. I needed the spin to control the power."
Siobhan didn't enjoy the feel of the racquet as much as the rest of the playtest team. She offered, "The 16x15 string pattern creates noticeably increased spin, especially if you're someone who hits with spin normally. I really liked the kick I could get off the court on groundstrokes. It wasn't so much that I saw or felt the spin coming off the racquet, but more that my shots were kicking up or dropping in when I thought that they would go out. I also noticed the spin a lot when my opponent was hitting with the Steam 99S. The ball looks the same but kicks off the court more and gets on you quicker. I struggled with the racquet a little outside of the spin experience. The larger headsize gave it decent amounts of power and control, and when I hit the sweetspot I could control placement and depth better. I mostly hit with a full bed of poly in the 99S, and I could really get some heavy racquet speed, although I wasn't sold on the feel. I know we had a poly in it, but regardless, the racquet doesn't have that lively, crisp 'pop' feel that I like when the ball comes off the strings. I know some of the players enjoyed the more muted response, but that feel wasn't for me this time."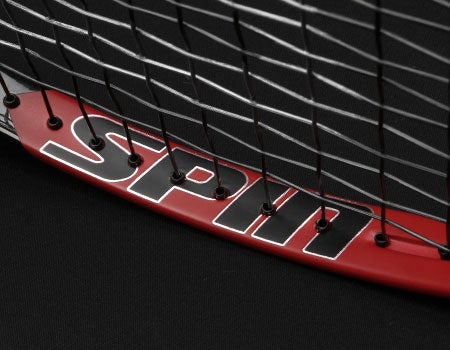 Volleys - Score: 77
Our team enjoyed the Steam 99S around the net and especially liked the stability it offered on volleys. "Because of the higher swingweight I found this racquet to be quite stable up at net," said Jason. "As long as I could get a racquet on the ball I could get it back over the net, for the most part. I felt like I could really punch my volleys, put some oomph on them and put the shot away."
"I was surprised at how much I enjoyed volleying with the Steam 99S," noted Andy. "Once again I was skeptical about the extremely open string pattern, but it ended up allowing me to really knife my volleys, with just enough touch and feel for controlled and drop volleys. It's not the best racquet out there in terms of feel, but it definitely has enough feel, maneuverability and stability to make it a solid racquet around the net."
After a brief adjustment period, Chris became dialed in around the net. He offered, "The Spin Effect string pattern felt very lively at first when volleying. I tend to hit my volleys very flat and bleed pace when looking to find an angle or hit short. With this racquet I found I had to add spin to get the same result, otherwise I would overhit. Once I made the adjustment my volleys felt dialed in again, and I was finding my targets. The open string pattern made the sweetspot feel huge, and I could find good depth and pace even on shoelace volleys. I also loved the comfort of this racquet. I could string it very tightly with a firm poly and it played very comfortably."
Siobhan also found the stability to her liking, but felt the extra heft also affected the racquet's maneuverability. She said, "The Steam 99S was enjoyable for me at net, and it definitely had more stability than the Steam 96. I liked the control and placement, though the ball jumped off the strings too much sometimes. It wasn't the most maneuverable of racquets, and I did get caught up a little bit during faster points. It felt really good on overheads, and I feel like the power was really accessible."
Serves - Score: 80
Our playtest team had mixed feelings when it came to serving with the new Steam 99S. Everyone found good power and spin, but some people wanted a little more control. Jason really enjoyed serving with it, and didn't have a huge issue with control. He offered, "I was really happy with how I served with the Steam 99S. I was surprised that the swingweight didn't hinder my timing, but instead helped me to be very consistent. Access to spin was great, which was not a shocker. I even thought I was able to hit my flat serve just as hard as I typically do. The only serve I struggled with was the wide serve on the ad side. I couldn't hit that shot on a semi-consistent basis."
Siobhan found great access to spin, but not enough control on her serves. She said, "The power came into play again here, like on overheads. My first serve was powerful, but with less control than I would have liked. I wasn't able to completely bang my serve, but I did like the pace I was getting on it. It was easy to hit with spin, too. It gave me a heavier bounce on kick serves (when I actually managed to hit one), and I felt in control on both my first and second serves."
Chris liked the added spin but would've liked a little more weight in the hoop for a little more pace on serves. He said, "Serving was easy with this racquet. The added spin I found allowed me to go higher over the net and still keep the ball inside the box. This led to more consistency, but I was not finding a considerable amount of extra power. I was serving well, but this is the one area where I could have done with a little more weight in the racquet to help me get the ball away. Again, the big story for me was spin, and I was getting some nice action on my wide serves. With my consistency up, I was able to serve confidently, and if I added some weight I'm sure I could up my service winner percentage."
Andy found lots of pop but little control on serve. He said, "The serve was one area where I didn't notice a huge difference between the Steam 99S and other racquets. I thought I would get more access to spin on my serves, but I didn't feel like there was a huge increase in generating slice and kick. I also didn't feel like I got the control I was looking for when I decided to go for a big flat heater up the T. However, I was definitely able to load up and crank the flat serve with lots of power. This stick was good, not great, on the serve."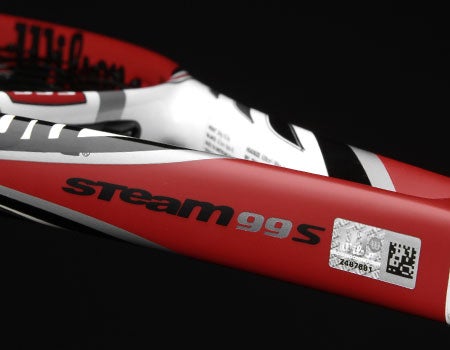 Serve Returns - Score: 83
Once again, it was mixed emotions for our playtesters when it came to returning with the Steam 99S. Some had issues with the maneuverability and others had an issue with control, but the spin was very apparent. Chris was in love with this racquet when returning serve. He said, "I loved hitting returns with this racquet. I could rip the ball with spin thanks to the incredible grab from the stringbed and the maneuverable feel. My angle returns were jumping off the court with lots of spin, and I found myself swinging faster and faster to generate even more topspin. On block returns, the lively response allowed me to punch the ball deep with lots of pace. Simply put, I thought this was a great racquet for hitting returns."
Siobhan liked the weight she could get behind her returns but struggled a bit trying to get the racquet around her body. She offered, "I enjoyed hitting returns more, in general, than groundstrokes. The power was good here, and I was able to rip forehands. It was a little tough to maneuver around in time, but the string pattern opened up good spin and I felt like I could hook deeper balls back and get my opponent in trouble. I hit with heavier spin normally, and the 16x15 string pattern just accentuated it. I did have a little trouble with depth control and wish that I could have hit deeper more consistently."
Andy found the racquet maneuverable and forgiving, but he wished for a little more control. He said, "This racquet was maneuverable on the returns, and the string pattern allowed for extreme spin potential. However, I typically take the return early and use my opponent's pace, so I like a racquet that can provide me with a lot of control and is very forgiving. This racquet had the forgiveness, but not quite enough control on returns. I found that when I hit with tons of spin the racquet provides a lot of control, but when I hit flat shots I lost a bit of the control. Once again, the Steam 99S was good, but not great on returns."
"This is the only area where I struggled with this racquet," said Jason. "There were no problems when I had time to set up. I loved it when I had time. However, when I didn't, I found myself struggling to get the racquet out in front on contact. Was I late on my shots because of the swingweight or was it because of my lack of skill? Probably a bit of both."
Overall - Score: 82
Likes
Chris - "I absolutely loved the spin. It was addictive. The stringbed completely overshadowed the frame, and I loved this racquet even though the weight and balance are not perfect for me. This feels like a giant leap forward and is the perfect match for today's monofilament poly strings. I was also impressed with the comfort and the easy power on flat shots, defensive shots and half volleys."
Andy - "I loved the crazy spin potential and was surprised at how much control I had on my groundstrokes and volleys. I also liked the maneuverability and stability of the frame, and the enlarged sweetspot from the string pattern."
Jason - "Ridiculous access to spin, stability, and the ridiculous access to spin."
Siobhan - "The spin; it's noticeably better and it provides more kick off the court."
Dislikes
Chris - "None really. Not my ideal spec and I'd likely add some weight, but that is all."
Andy - "As strange as it might sound, I liked the string pattern but disliked the frame. It's not the most natural feeling racquet to swing, and I think it's due to the way the weight is distributed in the frame. I'd like to see the 16x15 string pattern introduced into other Wilson frames."
Jason - "I could feel the stiffness after my hits but not during, thanks to the large sweetspot. The higher swingweight was an issue when I was tired out."
Siobhan - "Despite being sold on the spin, I didn't enjoy the feel of the Steam racquet."
Comparing the racquet to others they've tried, our testers said:
Chris - "Nothing currently available compares to this racquet. When I tested the Prince EXO3 Silver I was getting lots of spin, but this racquet takes it to another level. I was hitting shots I don't own and have no business hitting. I'll say it again, this one is a game changer."
Andy - "This racquet is tough to compare with anything else, because it really is in a realm of its own in terms of spin potential. This racquet really is a game changer, and I think a lot of people will fall in love with how heavy they can hit the ball with it. You can maybe put it in the same group as the AeroPro Drive, but it's a little more stable and has way more spin potential. This one is unlike anything I've ever hit, and I highly suggest you give it a try!"
Jason - "The stiffness and feel sort of reminded me of the BLX Juice 100, but the spin is incomparable. I feel like this version offers everything the regular Steam 99 did, but with more spin."
Siobhan - "I would compare the muted feel to the Wilson BLX Tour, but the level of spin is just different from other spin racquets I've hit. As far as the spin goes, this racquet is a unique experience."
Technical Specifications

Length
27 inches
69 centimeters
Head Size
99 square inches
639 square centimeters
Weight
11.3 ounces
320 grams
Balance Point
13.13 inches
33 centimeters
3 Pts Head Light
Construction
22.5mm / 24mm / 23.5mm
Composition
Basalt
String Pattern
16 Mains / 15 Crosses

Babolat RDC Ratings

Score

Grade

Flex Rating
70
Range: 0-100
Swing Weight
333
Range: 200-400
Scores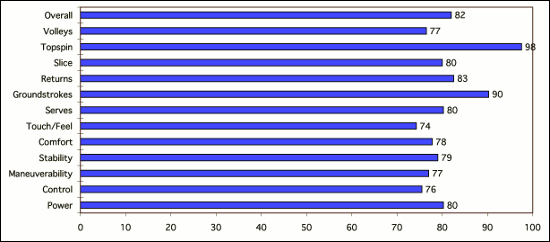 (Scores are determined by averaging individual play test scores)
Chris' Scores
Power
8.6
Serves
7.9
Control
8
Groundstrokes
9.3
Maneuverability
8.3
Returns
9.3
Stability
7.7
Slice
8.5
Comfort
8.3
Topspin
10
Touch/Feel
7.4
Volleys
7.9
Overall
8.8
Andy's Scores
Power
8.5
Serves
7
Control
7.5
Groundstrokes
9.5
Maneuverability
8.7
Returns
7.5
Stability
8.5
Slice
8
Comfort
7.5
Topspin
9.9
Touch/Feel
7
Volleys
7.8
Overall
8.5
Jason's Scores
Power
8
Serves
8.5
Control
7.9
Groundstrokes
9
Maneuverability
7.5
Returns
7.7
Stability
8.4
Slice
8.5
Comfort
7.5
Topspin
9.8
Touch/Feel
8
Volleys
8.4
Overall
8.5
Siobhan's Scores
Power
7
Serves
8.7
Control
6.8
Groundstrokes
8.3
Maneuverability
6.3
Returns
8.5
Stability
7
Slice
7
Comfort
7.8
Topspin
9.3
Touch/Feel
7.3
Volleys
6.5
Overall
7
Playtester Profiles
Chris: 5.0 all-court player currently using the Volkl C10 Pro 2012. Chris uses a full-western forehand grip, has a fast swing style and hits a one-handed backhand.
Andy: Open level all court player with a semi-western forehand grip and a two handed backhand. Andy currently using a Yonex RDiS 100 Mid.
Jason: 4.0 baseliner with a semi-western forehand and two handed backhand. Currently using a customized Boris Becker Delta Core NYC.
Siobhan: Open level player with a semi western forehand and a two-handed backhand. She currently plays with the Babolat AeroPro Drive GT 2013.

Review date: January 2013. If you found this review interesting or have further questions or comments please contact us.
All content copyright 2013 Tennis Warehouse.