With this lighter version of the Black Ace 98 ProKennex serves up an ultra maneuverable control racquet. With its dense 18x20 string pattern this one is loaded with directional control, giving it a very precise response on full swings. The Black Ace 98 is great for the intermediate or advanced player who wants the control of a player's racquet but without the heavy weight. It's also quite comfortable and boasts a wonderfully traditional feel thanks to the low flex rating (59 RA). From the baseline our TW playtesters found a very versatile stick, one that balanced great control with easy access to high swing speeds for cranking up the pace. This racquet's controlled explosiveness allowed our playtesters to take more aggressive cuts when going for risky passing shots or applying heavy spin. At net this one is all about speed and precision. It moves into position very easily and offers trouble free placement. It also has impressive stability for its light weight. All in all, this is a great option for any player looking for great control in a very speedy package.
Head Size:
98 sq. in. / 632.26 sq. cm.
Length: 27in / 68.58cm
Strung Weight: 10.7oz / 303.34g
Balance: 13in / 33.02cm / 4 pts HL
Swingweight: 300
Stiffness: 59
Beam Width: 20mm / 20mm / 20mm /
Composition: Spiral Tech Carbon
Power Level: Low-Medium
Stroke Style: Medium-Full
Swing Speed: Medium-Fast
Racquet Colors:
Black w/Silver Lettering
Grip Type: ProKennex Synthetic
String Pattern:
18 Mains / 20 Crosses
Mains skip: 8T 10T 8H 10H
Two Pieces
No Shared Holes
String Tension: 55-68 pounds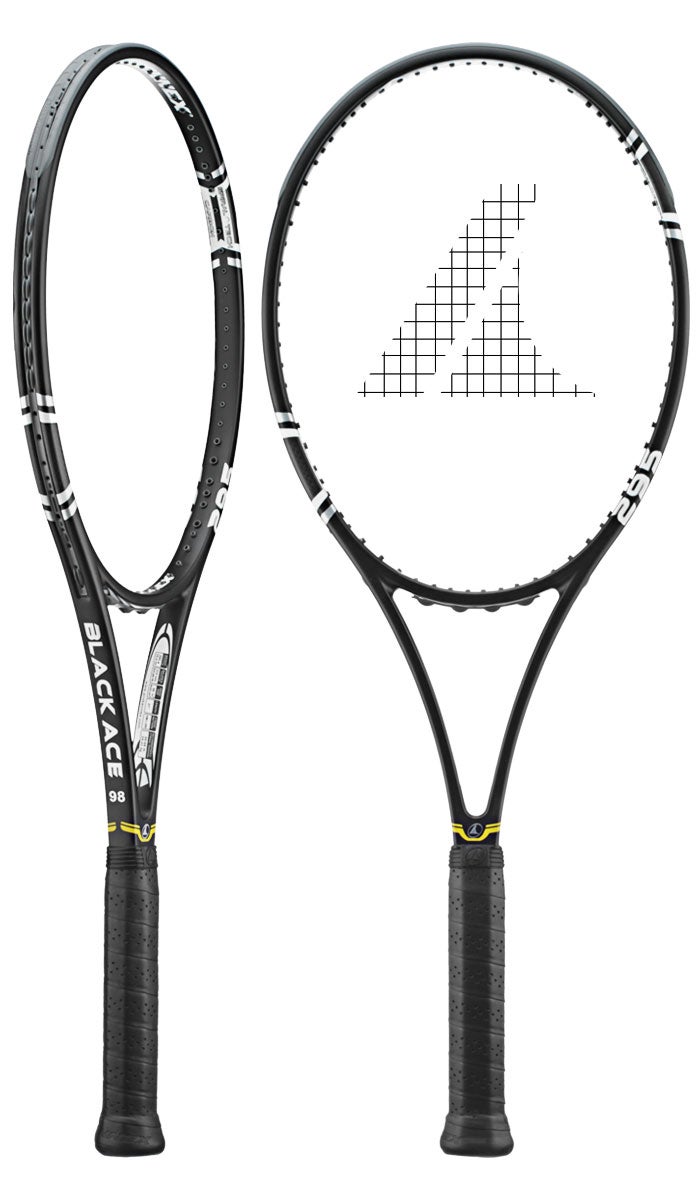 Similar Racquets

Sale This one offers a great combination of maneuverability and control. Quite stable for the manageable weight, with impressive spin potential for a dense string pattern. Strung Weight: 11.4oz. String Pattern: 18x20. Standard Length.

Best Seller Great directional control with decent plow-through for a sub 12 ounce racquet. A solid choice for intermediate to advanced players looking for controllable power. Headsize: 98 in². Strung weight: 11.5 oz. Pattern: 18x20.

Head updates this one with a more forgiving stringbed. Offering easier access to power, this Radical is fast and spin friendly. String Pattern: 16x19. Headsize: 98 in². Strung Weight: 11.2 oz.

Best Seller Endorsed by Andy Murray! Precise, crisp and lively, this racquet packs impressive plow through and a rock solid feel. String Pattern:16x19. Strung Weight: 11.5 oz. Standard Length.

Sale A very precise feeling player's stick that plays fast enough for those who like to turn up the pace and spin. Packed with comfort, this one has the kind of control that inspires confidence! String Pattern: 18x20. Strung Weight. 11.4 ounces. Standard Length.

This versatile stick offers effectiveness from all areas of the court. Headsize: 98 in². Standard Length. Headlight balance.

$179.00, Feedback
Buy 2 or more for $169.00 each.


Tecnifibre TFight 315 Ltd. TP ATP 18 Main

This maneuverable racquet offers an impressive combination of control, spin and feel. Great for the intermediate or advanced player looking for a lighter player's racquet. String Pattern: 18x20. Swingweight: 309 (RDC). Headsize: 98 in².

Sale Volkl makes big changes to the Organix 9. Armed with a denser string pattern along with a more comfortable grommet & grip system, this one is ripe for 4.5+ players looking for a maneuverable player's racquet that offers plenty of feedback and amazing control. String Bed: 18x20. Strung Weight: 11.5oz. Swingweight: 317.
Other racquets from this series

ProKennex Kinetic Pro 5G Classic

Best Seller The most popular Kinetic racquet. Offers lots of control and maneuverability, but still has good power for a player's racquet. The Kinetic mass dampens shock and offers relief to hard hitters with joint problems.

$119.00, Feedback

Best Seller Similar specs to the Kinetic Pro 5G, but slightly longer (27.5 inches) and heftier for added power and stability. 100 in ² headsize. 11.7 oz.