The Prince 03 Silver LS updates the original O3 Silver, a very popular racquet that received TENNIS Magazine's Editor's Choice Award in 2005. This update keeps the same target specs and the same great combination of power, speed and comfort. With its 27.75 inch length and light weight (9.6oz), the O3 Silver LS will allow beginners and intermediates to swing fast enough to generate effective pace and spin. Thanks to the O Port technology, the feel at impact is dampened and extremely tendon-friendly. Players with compact to medium strokes will have no problem keeping the ball deep and frustrating their opponents. At net the O3 Silver LS offers a very stable and forgiving response. With its luxurious hitting surface and fast feel our TW playtests found effortless depth and tons of put-away power. On serve the extended length and lively stringbed translate into very easy access to power and spin. Aggressive doubles players looking to create weak service returns will love this one. Best suited to 2.0-4.0 level players looking for power, maneuverability and comfort.
Head Size:
118 sq. in. / 761.29 sq. cm.
Length: 27.75in / 70.49cm
Strung Weight: 9.6oz / 272.16g
Balance: 14.6in / 37.08cm / 6 pts HH
Swingweight: 323
Stiffness: 74
Beam Width: 28mm / 28mm / 28mm /
Composition: GraphitExtreme / Copper / Titanium / Tungsten
Power Level:
Stroke Style: Compact-Medium
Swing Speed: Slow-Moderate
Racquet Colors:
Grip Type: Prince DuraPro +
String Pattern:
16 Mains / 19 Crosses
Mains skip: 7T,9T,7H,9H
One Piece
No Shared Holes
String Tension: 57-67 pounds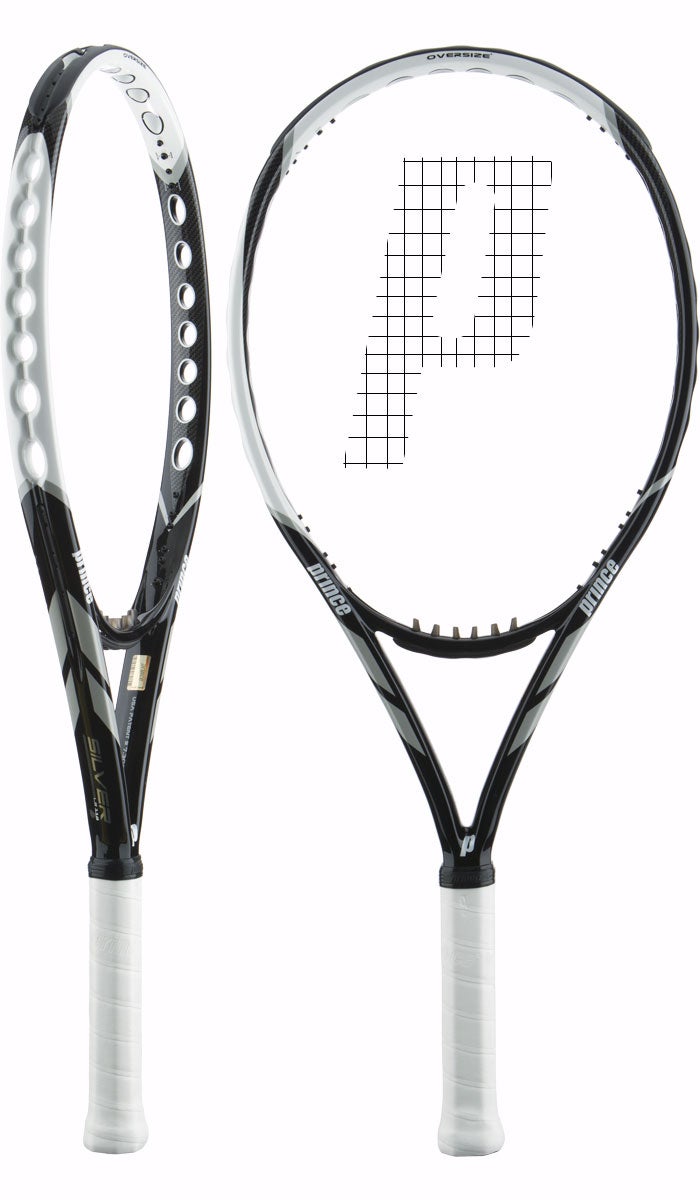 Similar Racquets

Best Seller A straight beam, head heavy widebody. The Titanium Ti S6 is an ultra-light (8.9oz.) offering with good torsional stability. 115 in² head size. Extended length.

$79.95, Feedback

ProKennex Kinetic Pro 15G Light

Formerly known as the 15G Reach, now called the 15G Light, this ProKennex model uses 100% High Modulus Graphite w/Kinetic System Technology, 27.5" length and 105 in² headsize.

$119.00, Feedback

Sale A great choice for beginners seeking a game improvement racquet. The KZero is the lightest racquet in the K Factor line. Impressive power and control. Super oversize head: 118 in². Length: 27.5 inches.

$99.00, Feedback
Other racquets from this series

Players looking for a comfortable ride with easy access to spin and plenty of power should love this extended length racquet. The oversize head provides a very luxurious hitting surface. Length: 27.5 inches. Headsize: 110 in². Strung Weight: 10.1 oz.

$139.00
Buy 2 or more for $129.00 each.


This cosmetic variation of the O3 Red has a hot pink streak and a large sweetspot. Boasting a comfortably dampened feel, this extended length racquet is great for intermediates looking for maneuverability, spin and plenty of pop. Length: 27 inches. String Pattern: 16x19. Strung Weight: 10oz

$119.00
Buy 2 or more for $109.00 each.


The original O3 Red lives on with a slight name change. This update continues to offer the same explosive speed, incredible comfort and controllable power of its very popular predecessor. Length: 27.25". String Pattern: 16x19. Strung Weight: 10.3 oz.

$119.00, Feedback
Buy 2 or more for $109.00 each.


The original Prince O3 White lives on with a different name and a great price! This racquet offers a wonderful blend of comfort, power, spin and precision to 3.5-5.5 players. Headsize: 100 in². Strung Weight: 11.2 oz. Standard Length

$119.00, Feedback
Buy 2 or more for $109.00 each.