For intermediates, The Dunlop Biomimetic M 6.0 strikes a nice compromise between maneuverability and stability. With its thick beam, high flex (70 RA) and open pattern, the ball jumps off the stringbed. Medium strokes from the baseline deliver good depth, while the easy access to tip speed helps create more spin. The near even balance puts good mass behind the ball, which makes for slightly heavier shots and a more comfortable response. On serves, the lower swingweight (312 RDC) enables faster swings and greater spin. The Biomimetic M 6.0 feels very mobile at net, making it great for reaction volleys or put-aways. Intermediates looking for a little more maneuverability and power should give this one a test drive.
Head Size:
102 sq. in. / 658.06 sq. cm.
Length: 27in / 68.58cm
Strung Weight: 10.6oz / 300.5g
Balance: 2 pts HL
Swingweight: 312
Stiffness: 70
Beam Width: 25.5mm / 25mm / 25mm /
Composition: Biofibre
Power Level: Medium
Stroke Style: Medium
Swing Speed: Medium
Racquet Colors:
Black/ White/ Grey
Grip Type: Viper Dry
String Pattern:
16 Mains / 19 Crosses
Mains skip: 8T 7H 9H
Two Pieces
No Shared Holes
String Tension: 52-62 pounds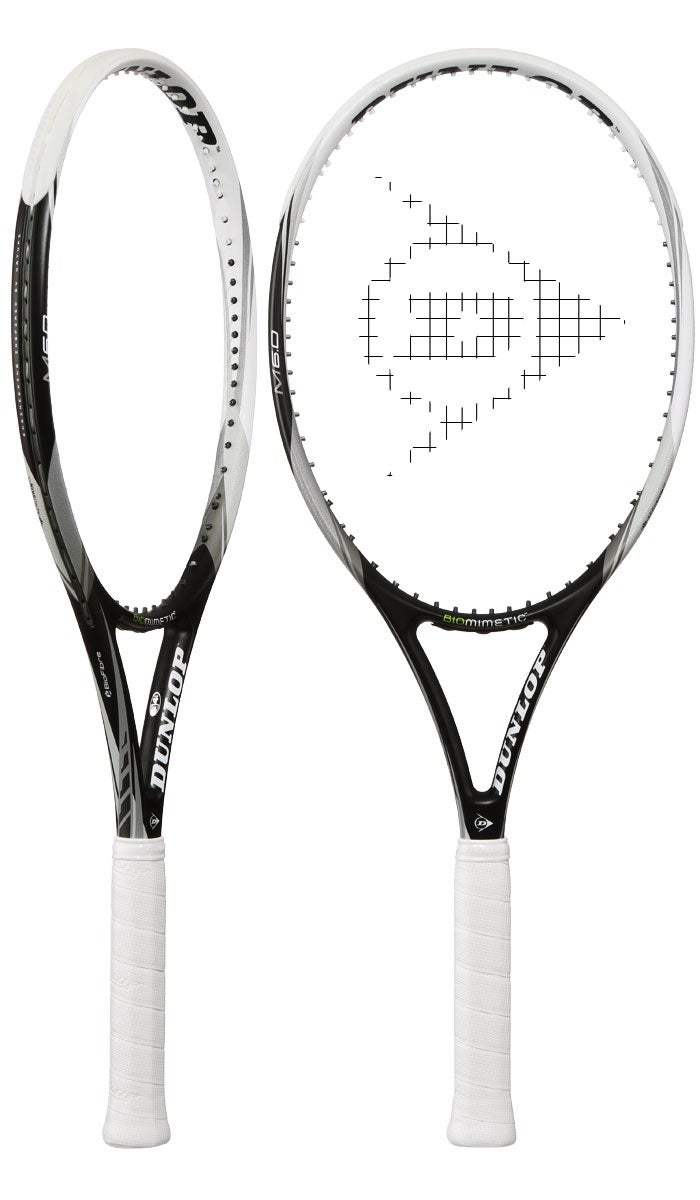 Similar Racquets
Sale A fast and spin-friendly 'tweener best suited to beginners and intermediates in search of controllable power. This one offers decent stability for the weight class. Headsize: 102 in². Strung weight: 9.9 Ounces. Swingweight: 297 (RDC).
$99.95, Feedback
Buy 2 or more for $89.95 each.

Other racquets from this series

Sale This compact midplus racquet delivers plenty of power and spin to intermediate and advanced players who don't want to sacrifice control. Headsize: 95 in². Strung weight: 11.7 oz. String pattern: 16x19.

$99.00, Feedback

Best Seller A maneuverable and comfortable racquet offering exceptional control. This one is a great option for players with medium to fast strokes. Headsize: 98 in². Strung weight: 11 oz.

Dunlop Biomimetic M4.0 Racquet

With its lively and spin-friendly response, this one gives 4.0+ players a nice weapon for keeping their opponents off balance. Headsize: 100 in². Strung Weight: 11 oz. Standard Length.

Sale Offering a precise yet lively response, this one is a treat for the intermediate player looking for easy access to spin and power. Very maneuverable. Headsize: 100 in². Strung weight: 10.4 oz. Standard Length.